ACO Threshold Drainage Solutions
ACO provides a wide range of product offerings designed for use in level entry thresholds and façade drainage, where compliance with NZBC Building Code E2/AS1 is required. Learn More. An Alternative Solution, falling under NZBC E1 can also be presented with full technical support.
A variety of products are available to suit a range of applications, joinery details and site requirements.
Product range features & benefits
Designed to fully comply to all requirements of NZBC Building Code E2/AS1
All joinery details can be accommodated
Alternative Solutions under NZBC E2/AS1 available
Wide range of HeelSafe® Anti-Slip grates for all finishes
Galvanised and Stainless Steel options available
Applications
Level entry thresholds
Educational facilities
Commercial and retail buildings
Heavy loading areas
Outdoor decks
Entertaining areas
ACO ThresholdDrain Cantilever – the original Threshold Drain
ACO ThresholdDrain Cantilever is an innovative design that achieves full compliance with the NZBC Building Code E2/AS1, while minimising visual impact. The cantilever design gives full 200mm width to the channel, while only allowing 93mm to be visible at the finished surface. This can also be adapted to a variety of trench widths and joinery finishes.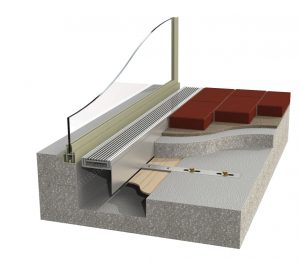 ACO ThresholdDrain OnePour – the simple solution
ACO ThresholdDrain OnePour allows a simple installation with a bolted bracket anchoring into the external concrete slab, achieving full compliance with the NZBC Building Code E2/AS1. Its unique design requires only one concrete pour for complete installation, and is customisable to project requirements. The full range of KlassikDrain K100/KS100 grates sit on top for continuity across a project.